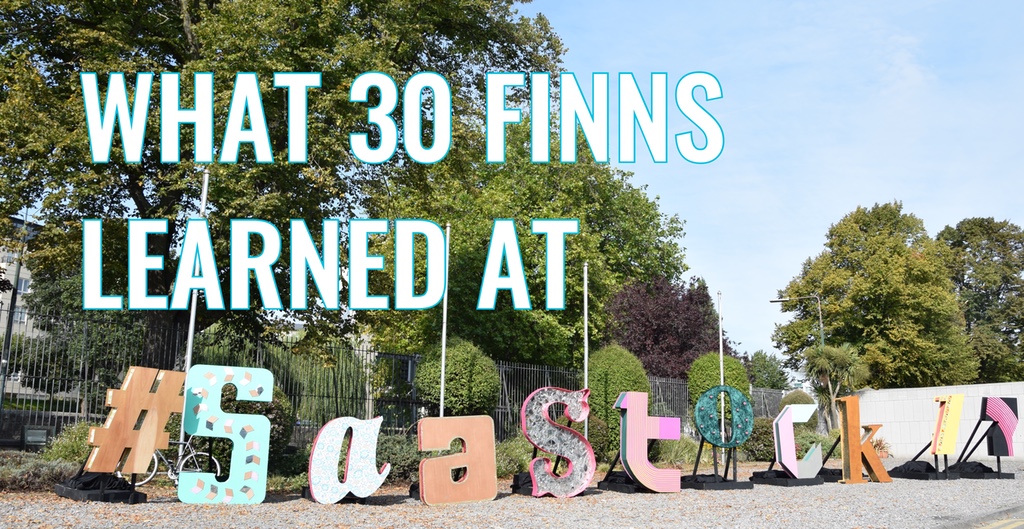 Three weeks ago I led a group of Finnish SaaS entrepreneurs to SaaStock 2017 in Dublin, Ireland, the leading B2B SaaS event in Europe. If you were there, we were the ones wearing white hoodies with Software from Finland logo on the back. In social media people called us the Finnish SaaS Mafia or Finnvasion.
Video of the trip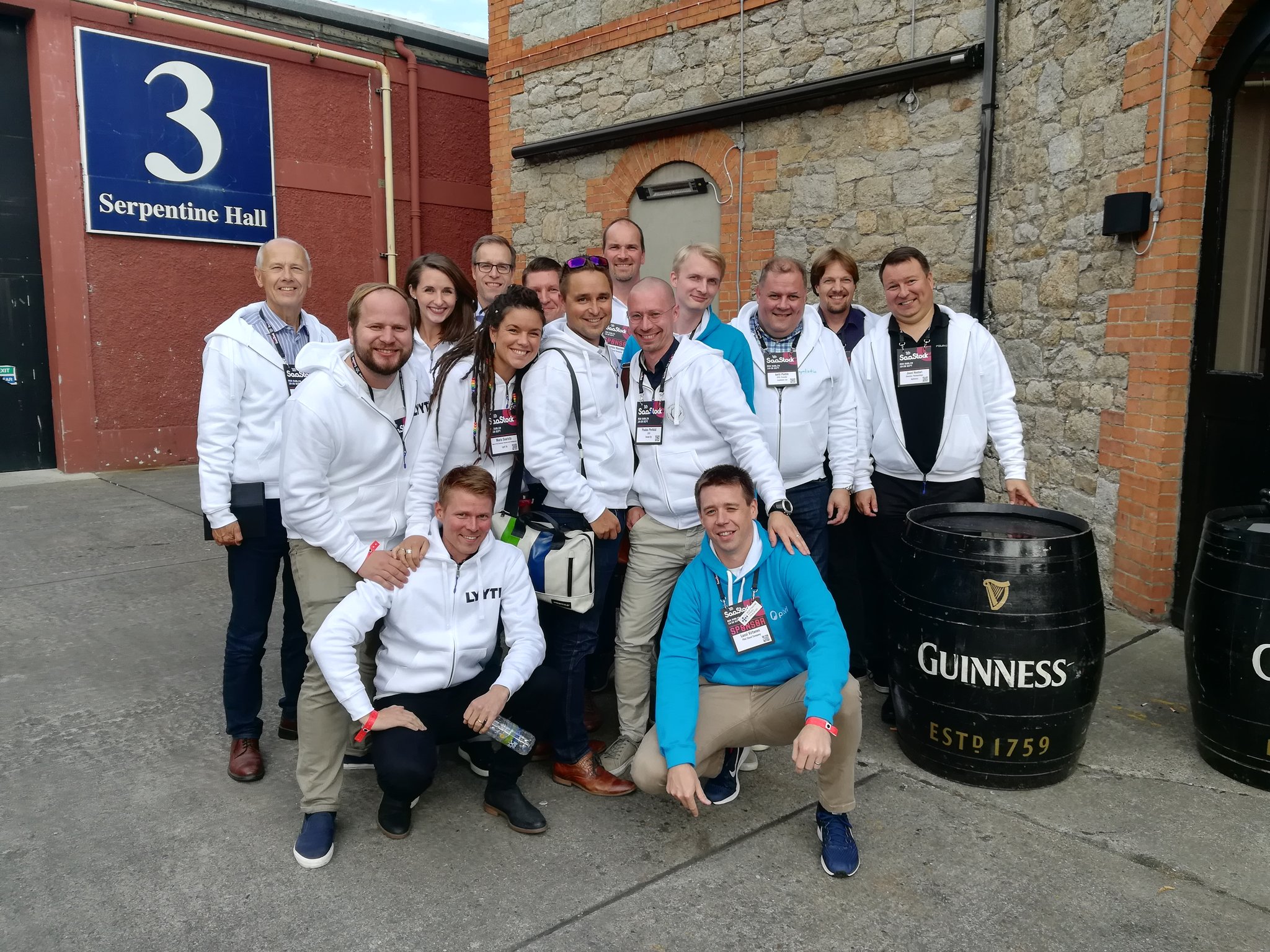 Finnish SaaS Mafia. Photo by SaaStock.
As a godfather of this mob it is my duty to summarize our findings. Instead of going through all the things we learned, I'll concentrate on what I believe are the most important findings.
Other Finns have also blogged about their takeaways: Markko Vaarnas from Takeoff Partners and Edward Ford from AdvanceB2B.
Why did we go?
Finns love associations, and our software industry is organized under Finnish Software Entrepreneurs Association with over 700 CEOs and Entrepreneurs as members. I am a member of its board, and run its SaaS club.
Last year I was contacted by Chris Murphy, co-founder of SaaStock. The 2016 event was coming too quickly to organize anything, however I met with Alexander Theuma, another co-founder, and Chris at our office while they visited Slush, a startup event held here in Helsinki. They also met Software Entrepreneurs' CEO Rasmus Roiha on the same trip.
Although our SaaS club is very active with popular monthly events, our speakers are mostly Finns. We are learning from each other, playing at a national level. Rasmus and I thought that we need to raise the game, and SaaStock seemed like a perfect opportunity. To raise the game to the world series, or at least to the Europe league.
So we decided to collect all interested to a group trip, leaving Milja Köpsi, our chief of everything, to take care of the practicalities. What a great job she did!
But why should a member participate? Or better yet, why did they?
Why did I decide to go?
And why did I took my CTO with me?
Some were looking for investors. However we have Slush and Arctic15 here in Helsinki, so you must have very specific needs, and to my knowledge, there was one company on our entourage that was actively looking for investors.
Some were looking for partners or customers, although targeting other SaaS companies isn't the most typical target market and I believe we only had two companies looking for customers.
Most were there for two reasons: either to improve their SaaS game as an individual or also as a team. We had several companies, including my Loyalistic, who had two or even six team members participating.
Let's dig a bit deeper on both reasons.
Following local, or should I say, national level SaaS is often easy. Come to our SaaS club, meet people. At a local level, it's not hard.
However we tend to follow world-class SaaS secondhand through blogs, videos and social media, and try to decipher the code for success. It's hard and you often misinterpret something (more of that later on this post).
When you hear the story from the source directly, see how the audience reacts, hear the questions and answers, and can discuss with others gives just so much more. Especially when you experience dozens of presentations one after another over three days. You are looking for patterns.
You won't let the latest presentation change your direction, like you often do when the learnings happen over time. You start to see those learnings shared as different data points and you start to make your learnings from all those data points.
But there is one problem. You come back from the event pumped up and full of ideas and information. A few days later nothing much has changed in your company.
When you have team members with you, magic starts to happen. At least that's what happened to us. We learned together, we discussed as we learned, and we started to make the same discoveries regarding where we, as a business, had problems, why, and what to do with them. We changed more in three days than in many months before that. And that is really invaluable!
Oh boy, how differently Sales and Marketing translates into action in the big world
One of the key findings for me was how differently the speakers at SaaStock and the Finnish SaaS companies (at home) translated the words Sales and Marketing into action.
This is exactly the kind of finding you will come back from an event like this.
Yes, we have read all the blog posts about SaaS. We have followed everybody. But still, it was kind of a shock to see how differently we have interpreted them.
For us Finns, sales is often field sales. At SaaStock however Sales meant inside sales.
For us Finns, marketing is generating a bit of buzz, traffic and leads done by a team of one, or at least less than a handful. At SaaStock it was completely at a different level.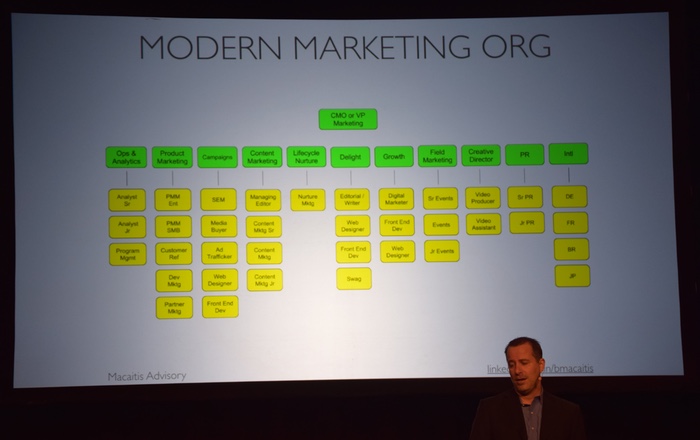 Bill Macaitis Former CMO at Zendesk / Slack/ SVP at Salesforce.com
It became clear from the presentations. Many had quite granular marketing organizations. This one slide tells it all. And for many, each box represent a team!
At SaaStock, marketing meant complex operations with lots of effort on content marketing while sales meant mostly inside sales with high level of inbound and automation both in the marketing, as well as on the sales side.
As a marketing automation vendor, I sure should understand my space. However one speaker showed how they run their lead generation operation, and I must say, that the tools for that operation must cost tens of thousands per month, and we are talking about one box on the marketing org chart.
There is a third phase between before and after Product-Market Fit, and it's very important
David Skok gave the best presentation of the event. That's my opinion shared by many I talked with.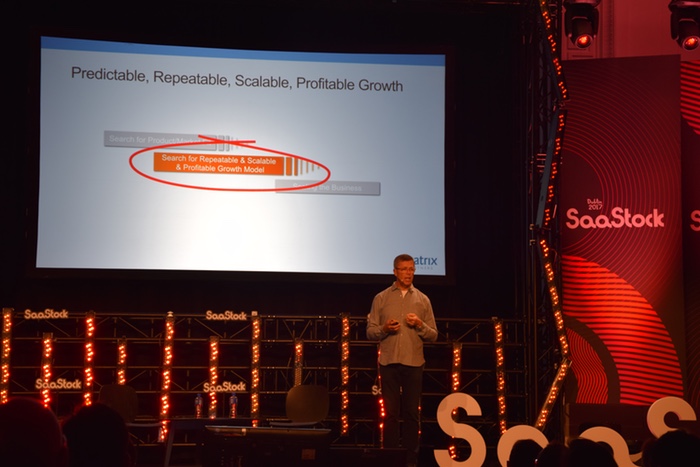 He argued that there is a phase between before and after Product-Market Fit. It's search for Repeatable & Scalable & Profitable Growth Model.
You can find David Skok's presentation here:
He also argued that you cannot force a phase, it takes what it takes, and you have to preserve cash because it's difficult to raise more funding if you haven't made to the next milestone.
I have seen way too many times when a SaaS startup rushes to scaling the business while it is still unclear whether there is even a Product-Market Fit, let alone a Repeatable & Scalable & Profitable Growth Model, found yet.
In B2B SaaS, scaling often means hiring salespeople. And that's where learning and searching stops. It can even stop earlier if the founder switches to sales mode from search mode. In the search mode, a founder is interested to learn as much as possible from the (generic) customer problem, and tune the product to better match that problem. But when the founder switches to sales mode, she listens to the customer in order to win the sale, not to learn more.
Messaging is an important part of a scalable growth model. Until you can transfer the idea including the benefits in shortest possible time and with minimum loss to another person, you have unnecessary friction. You often haven't really figured out who the best customers are. So your messaging and contacting are a bit all over the place really.
Messaging however does not translate directly to Finnish. It translates to same as communication, and although not necessarily wrong, it is often understood as something communication department/consultant does, which is quite far from what messaging means. This is a good reminder that terms can lose their meaning when communicated to the rest of the team or externals, especially if translated.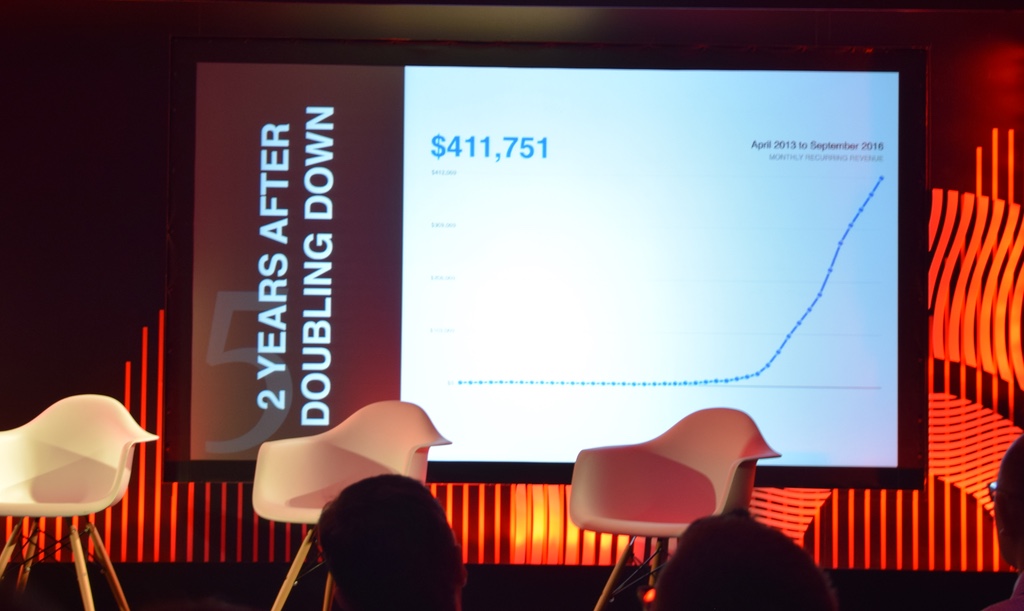 Growth from USD $1,400 MRR (Monthly Recurring Revenue) to $411,751 MRR in two years, that is. This is ConvertKit's curve.
If you start scaling too early, your customer acquisition cost (CAC) is high because you are still targeting too many wrong customers, your messaging is ineffective, your sales process or online funnel is way too leaky, and your customer lifetime value (CLV) is low as you struggle in onboarding them properly and too many are churning away. Too much of your scaling effort turns into smoke, not growth. I have seen this happening way too often for Finnish SaaS companies, resulting in slow growth, too much dilution with unfavorable financing mid-milestone, and finally exit at mild success. And you know what mild means for valuation.
Spending more time on honing the growth model however, including targeting and messaging, just right could have resulted quicker growth, favorable valuation with less dilution and far larger valuation at exit.
Maybe that would have saved some from going bust or being acquired too early.
Best Practices are best not to follow
As a final thought, I went to SaaStock in search for best practices and came back with one: don't use them.
If you have a formal business education, have worked in consulting or corporations, or done business with them, best practices are like religion. You had to do the right thing, the right way, the best practice way.
First, there is no best practice that goes over different growth stages. Rapid growth means your needs change fast. If you overinvest to something more durable, a practice, a tool, it's highly likely it is never perfect at any given stage. First it slows you down by being too big and expensive to use, then suddenly it's slowing you down not offering enough.  Some startups even change their CRM as often as I wash my jeans. Really.
Second, best practices seldom offer any competitive advantage.
When people find one thing that works, everybody starts using it. And when everybody starts using it, effectiveness starts to drop like a stone while the price goes up like a rocket. In early days, Google Adwords was cheap as nobody was using it really. Those who acquired their customers using Adwords, did so inexpensively. Now it's about 100x more expensive. Same applies to all marketing practices.
If you are small and want to grow fast, you need to find practices that are undervalued and -utilized, often upcoming practices. These often offer too few opportunities yet for corporations, keeping the costs and competition low.
That is one reason why SaaS startups should build capabilities in-house, often by hiring right people with no skills (=trainees). Nobody masters an upcoming marketing channel anyway, so why don't hire a fast learner. Having the operation in-house means you are quick to make changes to the next wave. And you should never outsource something you don't master yourself anyway.
Top tip:
If you want to take photos of presentations, take your DSLR or other proper camera with you. You sit far from the stage, the room is dim and the screen on stage is super bright. Your phone's camera won't zoom close enough, thus shots are often overexposed leaving the slide you wanted to document burnt white and useless. At least my iPhone 7 Plus did, even though it has a dual back camera with optical zoom. My DSLR shot everything perfectly and was far faster to operate so I managed to shoot interesting slides which were shown only for few seconds.
Written by Antti Pietilä

Antti is the founder and CEO at Loyalistic (Simple Content Marketing Software for B2B Companies) who loves to help SaaS-companies to grow at Software Entrepreneurs (@ohjelmisto_ry) and cycle. Say hello to him anytime @anttipietila.