For many businesses going abroad is a challenge. Antti Pietilä, CEO of marketing automation software company Loyalistic, and his guest Jos Schuurmans, founder of digital marketing consultancy company Cluetail, talk about how reaching the international audience can be made easier by using content marketing.
Speed up your international growth by using content marketing
Many companies have started internationalisation by setting up local sales offices country by country which is a very slow way to grow. Because of the Internet it is nowadays also possible to be international immediately after the company has been set up by using content and inbound marketing.
Save money and time with content marketing
With content marketing it is possible to generate interest among global audience first and then serve them by e.g. using remote meetings at least in the earlier phases of the sales funnel. Only later, when the customer has come further in the sales process, you can fly to them to have a face-to-face meeting.
The term inside sales is often used here: it means that your sales people are sitting in your office instead of your customer's office and use digital means, usually remote meeting softwares like GoToMeeting, to discuss with the customer. There is no need for outbound sales because the customer is already interested in your services based on your content, hence you can use lighter sales methods which often mean that your customer acquisition cost (CAC) will be lower.
This is a huge opportunity for companies to internationalise for much less money and in much shorter time than what used to be the case: in the past you picked a country, did some market research, sent someone there and typically waited for a year and a half to have any business there while paying that someone wage the whole time.
Let your content do the market research
Today, with the digital tools being so available and so affordable, you can start with a "lean" marketing approach by e.g. setting up a one page website in different languages and publish the same content in all those different languages to see if you can address an audience in any of those languages. If one of them gets a response and you start to get traction you have something to work with and you can start putting more resources there and see if it grows further.
This way you can test several possible markets for your product at the same time and only after testing decide your focus area and maybe also the direction of your product or service development. This is a different way of thinking from how most companies still at the moment do it: usually they develop the product or service first and then start thinking about how they should do the marketing for it which can lead to a situation that there is no market for your product. Using content marketing is the new way of doing market research.
These days the country or area office can be set up after the fact that the market has proven to be profitable but not before that: the office is built to support and optimise the market, not to expand to that market.
Note different markets in content creation
The challenge with international content marketing is that you're still dealing with different markets. If you want to be efficient with your content creation you should, ideally, have one master content in English which you can easily translate to different languages you are using.
The reason to translate the content from English to another language is that the competition is fierce in content written in English, much more fierce than in any other language, which means that it is almost impossible to get traffic and rank well on Google's search results using only English. You shouldn't start localising the content for different markets too early in the beginning of your company's journey but only to translate the same content to different languages which requires a lot less resources.
The audiences are different in different countries. Part of your content strategy, at least at an advanced level, should be that you study where your target audience in a particular country hangs out online: the channels, communities and publications. This way you can create content that offers interesting additional value to the type of content your target consumers already consume.
Start from a simple international content marketing operation
It is good to start with quite a simple content marketing operation: you can start with e.g. 10 countries without any localisation other than translating your content, and after you have learned from which market you get the best traction, you choose the best 5 or the best 2 in which you want to concentrate and put all your resources. Then only on round 2, 3 or even 4 of your operation you start to add real localisation like having a different strategy, selecting different promotion channels or having true localised content depending on the country.
For further talk on the matter watch the video above!
You'll find the video also on Loyalistic's YouTube channel, go and subscribe!
Company Blogging Success Formula (Ebook)

Success of a company blog doesn't just happen, no matter how good content you create. It has to be made, and it has to be made by You. Luckily there is a formula for success which consists of 5 success factors. What are they? Download the ebook to find out The Company Blogging Success Formula!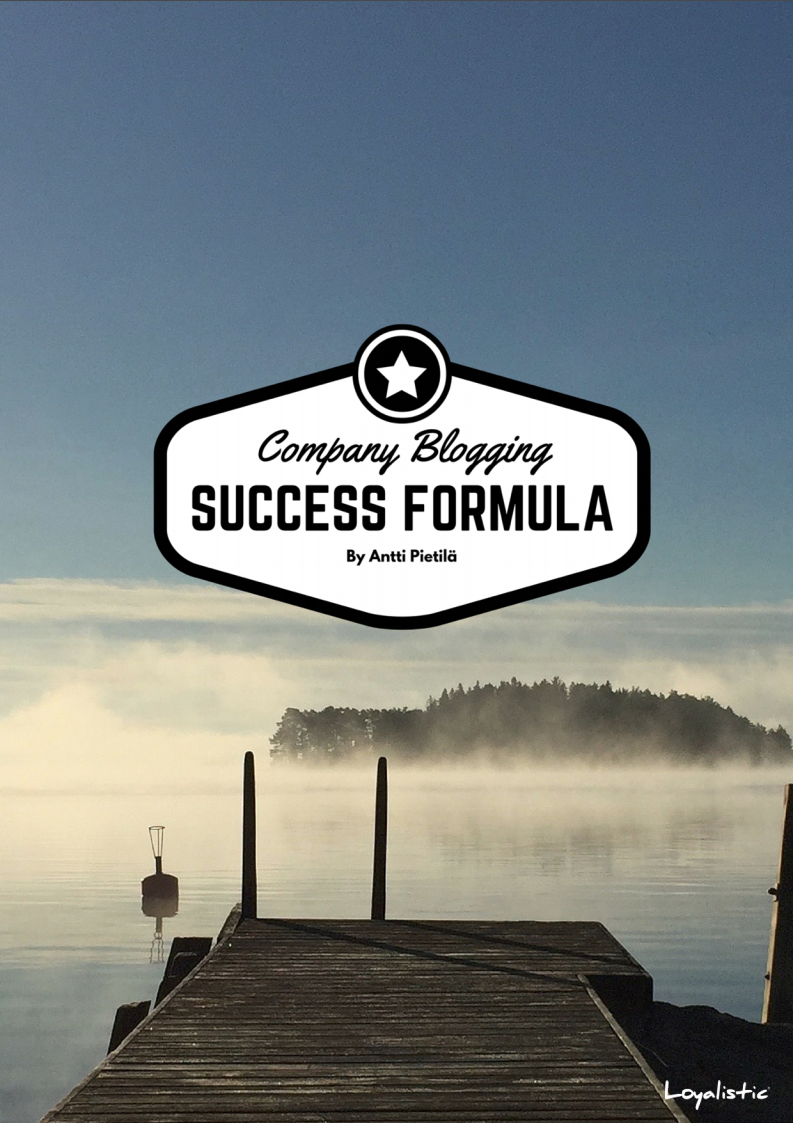 DOWNLOAD FREE EBOOK